Sicilian Empire
Joseph Castelletti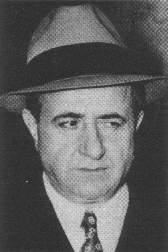 Joseph "Papa Joe" Castelletti was born Giuliano Castelletti, but his name was too difficult for the Immigration Officer to spell, so he his name was forcibly changed to Joseph. Joseph is the head of The Castelletti Family. His organization is considered to be very honorable and well respected within the New York area. Joseph came from Sicily with his wife and oldest son to escape economic hardship in the Old Country.
Joseph joined The Castelletti Family back when it was referred to as The Vizzini Family, and run by Luca Vizzini. Joseph served well, and eventually became the Sotto Capo. When Luca died of a heart attack, Joseph assumed the role of Capofamiglia, and quickly expanded the operation.
After many years of successfully leading the family, Joseph led it into a war with The Greco Family. During their five year war Joseph aggressively took over large segments of the Greco territory. This war took The Vizzini's from the fourth most powerful organization in New York City to the second most powerful, and reduced the Greco's from the most powerful to the third. The now most powerful family, The Amato Family, then interceded in the war, and forced an uneasy truce between the warring factions. At the banquet that brought the end to the war, it was Alessandro Amato who first referred to the Vizzini's as The Castelletti Family.
Joseph is married to Maddalena, and through her has three sons and two daughters:
In order of birth:
Santino – Son

Marco – Son

Lucrezia – Daughter

Giovanni – Son

Amaranta – Daughter